Around sound art festival 2014
「聽在」聲音藝術節2014
音のある芸術祭2014
Around sound art festival 2014
Japan & Hong Kong
「聽在」聲音藝術節2014
音のある芸術祭2014
Around 2014 includes two parts, Japan and Hong Kong. This is the first time that we bring Around out of Hong Kong. Being There – Artist Residency and Retreat Camp held in Amino, Kyoto, was curated by Alice Wong, Wong Chun-hoi, Hiromi Miyakita and Akio Suzuki.  Hong Kong artists were invited to travel to Amino, Kyoto for a 2-week residency, in which they explored sound and space in Amino. Together with Japanese artists, the artists had presented workshops, soundwalks, and performances during the 3-day Retreat Camp. The artists had also engaged with the public in dialogues while wandering around this small city on the coast of the Sea of Japan.
The festival continued in Hong Kong after the camp. Italian curator Carlo Fossati had worked with Michael Graeve and Tetsuya Umeda to present site-specific installations and performances at Kwun Tong Ferry Pier. An installation by Paolo Piscitelli was also exhibited at the Pier. Piscitelli's video work, along with those works by artists Phill Niblock, Carlos Casas and Alessandro Quaranta were presented at Connecting Space, Hong Kong.
This fourth edition of Around sound art festival since the inauguration in 2009, surely could not happen without all the generous support of artists, co-organizers and sponsors.
「聽在」2014共分為日本和香港兩部分,聲音掏腰包首度將藝術節的部分節目帶到海外。由黃嘉淇、王鎮海、聯同宮北裕美及鈴木昭男共同策劃的「丹後聆聽營」包括為期兩周的藝術家駐留計劃,幾位獲邀參與的香港藝術家將於日本京都府京丹後市體驗生活及進行聲音與空間之探索,並聯同日本藝術家於體驗營期間透過在地裝置、現場表演及藝術家對談分享其探索成果。
藝術節在聆聽營後繼續在香港進行。意大利策展人Carlo Fossati 帶領Michael Graeve 和 梅田哲也 於觀塘渡輪碼頭創作在地裝置及表演,同場亦展示了Paolo Piscitelli的裝置作品。同期亦於香港 Connecting Space播放Phill Niblock、Carlos Casas及Alessandro Quaranta的錄像作品。
從2009到2014,已是聲音掏腰包舉行的第四次「聽在」聲音藝術節。感謝藝術家們、合作夥伴及贊助商們的鼎力支持。
:: Japan 日本 ::
Being There – Retreat Camp (Exhibitions, Performances, Workshops, and Guided Walks)
29 – 31.8.2014
an exploration of sound and space in Amino, Kyoto

Democratic Orchestra 民主樂團
@ Amino, Kyoto 京都網野町
Tetsuya Umeda 梅田哲也

Pre-opening Performance 開幕前預演
@ P-four
Hiromi Miyakita & Chan Man-yee Abby
宮北裕美、陳敏兒

Pre-opening Performance 開幕前預演
@ P-four
Wong Chun-hoi 王鎮海

Pre-opening Performance 開幕前預演
@ P-four
Akio Suzuki & Tetsuya Umeda
鈴木昭男、梅田哲也

Site-specific Performance 在地表演
@ Choshiyama Hill 銚子山古墳
Xing Liang & Akio Suzuki
邢亮、鈴木昭男

Site-specific Performance 在地表演
@ Morigen Hostel 守源旅館
evala + sonihouse & Akio Suzuki 鈴木昭男

Site-specific Performance 在地表演
@ Amino Shrine 網野神社
Chan Man-yee Abby & Hiromi Miyakita
陳敏兒、宮北裕美

Installation 裝置
@kanabun
Fiona Lee 李穎姍

Installation 裝置
@ Hacchohama Seaside Park
八丁浜沙灘海濱公園
Wong Fuk-kuen 黃福權

Installation 裝置
@ Hacchohama Seaside Park
八丁浜沙灘海濱公園
Chan Kiu-hong Joe 陳翹康

Installation 裝置
@  Morigen Hostel 守源旅館
Edwin Lo 羅潤庭

Exhibition 展覽
@ Tango-en Nursery Home 丹後園
Ayumi Adachi
:: Hong Kong 香港 ::
voices / landscapes (for the eye and ear)
26.9 – 2.10.2014
an ongoing research on the relation and interaction between sound and image in Kwun Tong Ferry Pier & Connecting Space, Hong Kong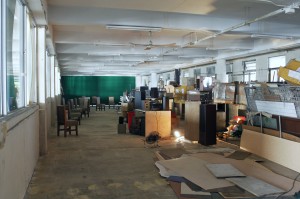 Colour and Sound, Sequence and Series, Shadow and Stuff (2014)
Mixed media installation 混合媒體裝置
@ Kwun Tong Ferry Pier 觀塘渡輪碼頭
Michael Graeve

Colour and Sound, Sequence and Series, Shadow and Stuff (2014)
Mixed media installation 混合媒體裝置
@ Kwun Tong Ferry Pier 觀塘渡輪碼頭
Michael Graeve

Colour and Sound, Sequence and Series, Shadow and Stuff (2014)
Mixed media installation 混合媒體裝置
@ Kwun Tong Ferry Pier 觀塘渡輪碼頭
Michael Graeve

Live Performance 現場表演
@ Kwun Tong Ferry Pier 觀塘渡輪碼頭
Michael Graeve

Vacant (2015)
Mixed media installation 混合媒體裝置
@ Kwun Tong Ferry Pier 觀塘渡輪碼頭
Tetsuya Umeda 梅田哲也

Vacant (2015)
Mixed media installation 混合媒體裝置
@ Kwun Tong Ferry Pier 觀塘渡輪碼頭
Tetsuya Umeda 梅田哲也

Performance (artist in absentia)
藝術家不在場演出
@ Kwun Tong Ferry Pier 觀塘渡輪碼頭
Tetsuya Umeda 梅田哲也

At the same time 同一時間 (2008)
@ Kwun Tong Ferry Pier 觀塘渡輪碼頭
Paolo Piscitelli

Topolò 1 (2005)
@ Kwun Tong Ferry Pier 觀塘渡輪碼頭
Phill Niblock

Video Screening 錄像放映
@ Connecting Space, Hong Kong
Phill Niblock, Carlos Casas & Alessandro Quaranta
Continue Reading >>>
Festival Program Booklet (Japan)
Festival Program-at-a-glance (Japan)
Festival Program Booklet (Hong Kong)
Festival Program-at-a-glance (Hong Kong)
==============================================================================
presented by
主辦 / 主催

partner organization
合作夥伴 / 共催

generously supported by
慷慨支持 / 支援事業

venue partner
場地夥伴 / 会場提供パートナー

soundpocket is financially supported by the Hong Kong Arts Development Council
聲音掏腰包為藝發局資助團體
サウンドポケットは香港芸術発展局の助成団体です
Supported by the Arts Development Fund of the Home Affairs Bureau, the Government of the Hong Kong Special Administrative Region
計劃由香港特別行政區政府民政事務局藝術發展基金資助
香港特別行政区政府民政事務局芸術発展基金助成事業